Description
Your Self-Paced Solution
Our course bundle makes it super easy for you to step into your career by giving you everything you need to get started: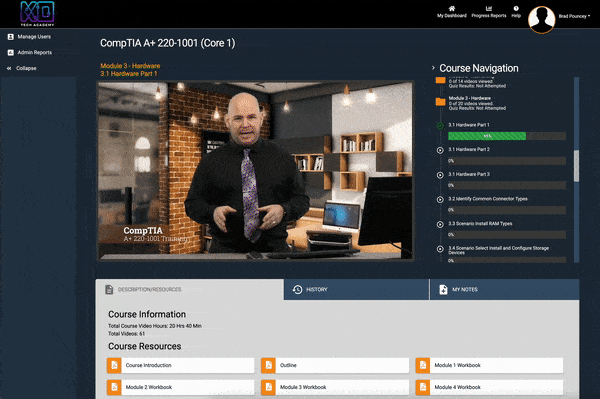 Complete Certification Training Platform
You'll begin your journey in our online training platform, where you'll get everything you need to ace your first few industry certifications – and access for a year to continue education!
Interactive Learning Tools
As you approach testing day, you'll have interactive learning tools and comprehensive workbooks with pages of notes to review to ensure you pass with flying colors.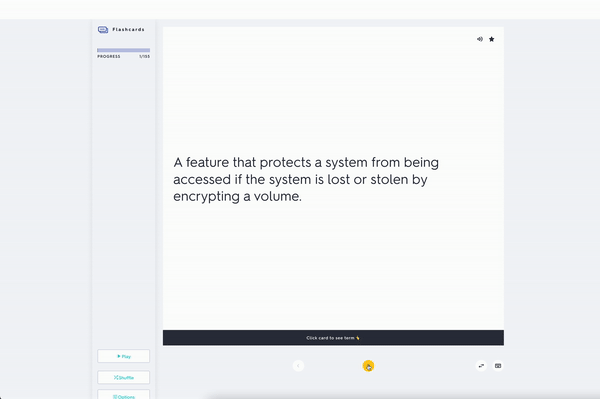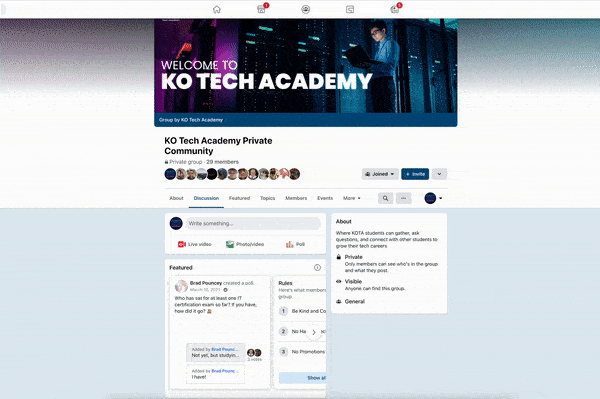 Career Changer Community
During your certification training & your IT job search, you'll have access to our online student & alumni group, where you can connect with folks to pair study or find new opportunities out in the field.
Course Curriculum
What You'll Learn in the Course
Unlock the knowledge to jumpstart your new IT career today!
9
Modules
265
Videos
54
Hours of Content
Module 1
Introduction to Adobe Photoshop
This course is designed to get you up and running with Adobe Photoshop. Whether you are new to Photoshop or just brushing up because you haven't used it for a while, this course should help.
Most of the material should be relevant regardless of the version of Photoshop you are using. This course covers core Photoshop techniques in Photoshop Creative Cloud, but the user interface is pretty consistent from one version to another. Some features may work slightly differently, but the concepts are the same.
Lesson 1 – Getting Started
Instructor Intro
Course Intro
Open Images
Get Familiar with Work Space
Zoom and Pan
Undo and Save PT.1
Undo and Save PT.2
Resize and Resolution
Crop and Straighten
Expand the Canvas
Basic Image Corrections
Lesson 2 – Layers and More
Layer Basics
Resizing Layers
Adding Text and Images
Layer Styles
Photo Merge and Panoramic Images
Camera Raw
Camera Raw Continued and Adjustment layers
Selection Basics
Lesson 2 – Editing, Techniques, and More
Raw File XMP
Masks
Puppet Warp and Alpha Channel
Typography
Vector Drawing Techniques
Advanced Compositing
Module 2
Introduction to Adobe Illustrator
The industry-standard vector graphics software is used by millions of designers and artists to create everything from gorgeous web and mobile graphics to logos, icons, book illustrations, product packaging, and billboards.  In addition, users can create freehand drawings, or trace and recolor graphics to turn them into works of art.
This course is designed for anyone with an interest in either graphic design or illustration.
Lesson 1 – Introduction
Instructor Intro
Course Intro
Lesson 2 – Getting Started
What are Vectors
Creating a New Document
Navigating The Interface
Lesson 3 – Drawing
Drawing and Manipulating Primitive Shapes
Drawing Custom Shapes Part 1
Drawing Custom Shapes Part 2
Drawing Custom Shapes Part 3
Importing Images
Understanding Layers and Sublayers
Additional Drawing and Manipulation Tools
Lesson 4 – Colors and Gradients
Color Theory
In-Depth Dive Into Color Palette
Creating Color Swatches
Creating and Manipulating Gradients pt.2
Creating and Manipulating Gradients pt.3
Lesson 5 – Intermediate Illustration
Appearance Palette
Pathfinder Palette
Drawing with Intent pt.1
Drawing with Intent pt.2
Blending Modes & FX pt.1
Blending Modes & FX pt.2
Lesson 6 – Typography
Introduction to Typography
Type Tools in Illustrator
Envelope Warp and Mesh
Breaking Text into Outline
Lesson 7 – Live Trace, Paint Brush, and Blob Brush
Live Trace
Paint and Blob Brush
Lesson 8 – Exporting
Difference Between File Formats and Exporting
Course Conclusion
Module 3
Adobe XD
Adobe XD is a Vector based software program for user experience applications. It is used to create prototypes, wireframes, and designs for interactive screen-based applications like websites and mobile apps. This program is a great tool for creating fast design prototypes for screen and mobile based applications created by UI and UX designers.
The course is intended for people who are user interface and user experience designers, as well as web designers, digital media, and social media content creators.
Lesson 1 – Introduction
Instructor Intro
What is XD
UI and UX Design
Prototype Forms and Wireframes
Starting a New Design in XD
Assets and Character Styles
Lesson 2 – Working in XD
Importing Content
Responsive Resize and Changing Formats
Adding Interactivity
Animating Elements
Sharing and Exporting
Module 4
Adobe Lightroom
With this powerful photo editing software, you will learn to manage and edit numerous images at the same time, while also learning the basic tools and editing fundamentals needed to take your photography work to the next level via professional post-production.
While this course is intended for beginners, it may also be helpful to more seasoned photographers and editors who are switching editing programs or students who have not fully dived into the program yet.
Lesson 1 – Welcome
Lesson 2 – Why use Lightroom
Lesson 3 – Lightroom Library and Organization
Lightroom Library and Organization Part 1
Lightroom Library and Organization Part 2
Lightroom Library and Organization Part 3
Lightroom Library and Organization Part 4
Lesson 4 – Edit your Photo – Global Adjustments
Edit your Photo – Global Adjustments Part 1
Edit your Photo – Global Adjustments Part 2
Edit your Photo – Global Adjustments Part 3
Edit your Photo – Global Adjustments Part 4
Edit your Photo – Global Adjustments Part 5
Edit your Photo – Global Adjustments Part 6
Edit your Photo – Global Adjustments Part 7
Edit your Photo – Global Adjustments Part 8
Edit your Photo – Global Adjustments Part 9
Edit your Photo – Global Adjustments Part 10
Edit your Photo – Global Adjustments Part 11
Lesson 5 – Edit your Photo – Local Adjustments
Edit your Photo – Local Adjustments Part 1
Edit your Photo – Local Adjustments Part 2
Edit your Photo – Local Adjustments Part 3
Edit your Photo – Local Adjustments Part 4
Edit your Photo – Local Adjustments Part 5
Edit your Photo – Local Adjustments Part 6
Lesson 6 – Saving and Exporting
Lesson 7 – Lightroom CC Overview
Lesson 8 – Outro
Module 5
Introduction to Adobe Premiere Pro
Adobe Premiere Pro is the industry-standard tool for timeline-based editing, which makes Premier Pro expertise a valuable commodity in the workplace. The purpose of this course is to introduce basic Premiere Pro features and concepts so that you can use the program effectively.
Lesson 1 – Getting Started
Course Intro
Touring Adobe PP
Touring Adobe PP pt.2
Setting Up a Project
Importing Media
Organizing Media
Mastering the Essentials of Video Editing
Working with Clips and Markers
Adding Transitions
Multi-camera Editing
Advanced Editing Techniques
Lesson 2 – Motion, Sound, and More
Putting Clips in Motion
Editing and Mixing Audio
Sweetening Sound
Adding Video Effects
Basic Color Correction
Composting Techniques
Creating Graphics
Exporting Frames, Clips and Sequences
Module 6
Introduction to Adobe After Effects
Adobe After Effects enables you to add special effects and animation to graphics-related projects. After Effects can help you animate, alter, and composite media through the use of various tools and special plugins. After Effects is the industry-standard software for motion-graphics pros, web designers and visual effect artists for video editing.
Students will learn how to use After Effects without having any prior knowledge of the program. Both beginners and intermediate users will benefit from this course.
Lesson 1 – Getting Started
Course Introduction
Keyboard Shortcuts
Keyboard Tips
Things to Do Before Starting
Lesson 2 – Getting to Know the Workflow
General Interface and Starting a Project
Basic Title Animation using Keyframes
Keyframe Interpolation and Keyframe Assistant
Renaming a Composition
Soloing a Layer for Individual Edits
Interface Continued: Toolbar, Timeline Panel, Preferences, Workspaces
Render and Export
Lesson 3 – Creating a Basic Animation Using Effects and Presets
Importing Files from Bridge and Creating a New Composition
Horizontal Type Tool and Guides
Controls, Effects and Presets for Titles and Logos
Lesson 4 – Animating Text
Create and Stylize a Text Layer with Characters and Paragraph Panels
Preview and Apply Text Animation Presets and Use Keyframes
Animate Layers Using Parenting
Module 7
Starting Your Own YouTube Channel 101
In this course, students take a deep dive into how to generate ideas through online marketing with social media, live streaming, purposefully posting on social media, and lead capture methods. These ideas will then be looked at with the objective of creating reusable content for social media as well as other content platforms like emails, blogging, video and making them all work together.
Students will learn how to set up business Facebook pages, use Facebook groups to generate leads and live video topics. The instructors will take a step by step look at setting up each part of the pages to its max and how to attract your ideal customer/client and get them to follow you and eventually do business with you.
Welcome to the course
 What Will Your Channel Be About?
 Recording Device
 Your Competition
 Your Normal Video Formula
 Your Apprearance
 Your Personality On Camera
 Beware of Copy-written Content
 Elements To Make Your Channel and Videos Better Part 1
 Elements To Make Your Channel and Videos Better Part 2
 Sound Quality
 Post Schedule
 Doing Too Much
 Community Interaction
 Trolls and Negative Comments
 Fancy Equipment Or Not
 Patience
 Conclusion
Module 8
HTML 5
HTML is one of the main programming languages that power the internet. And once you master it, you can begin to create your own web content, whether it be simple websites or complex online applications. This online training course provides an in-depth look at the essentials of writing and editing HTML code.
Lesson 1 – What Is HTML?
Introduction
What Is HTML
HTML Resources
Choosing A Code Editor
The Relationship Of HTML, CSS And JavaScript
Lesson 2 – The Structure and Components
The HTML Document
DOCTYPE Declaration
The Head
The Body
The Footer
Lesson 3 – Formatting the Page
Using Headings
Creating Paragraphs
Emphasizing Text
Controlling Line Breaks And Whitespace
Creating Lists
Working With Tables
Lesson 4 – Structuring Content
Why Structure Matters
Controlling Document Outlines
Structure Elements Part 1
Structure Elements Part 2
Lesson 5 – Adding Links, Images and Other Media
Working With Links Part 1
Working With Links Part 2
Working With Images Part 1
Working With Images Part 2
Lesson 6 – Styling Web Pages
HTML And CSS
Creating Inline Styles
Controlling Typography
Adding Color
Externalizing Styles
Lesson 7 – Creating Your Own Website
Creating A Website Part 1
Creating A Website Part 2
Conclusion
Module 9
CSS3
Whether you're a web developer responsible for thousands of pages or a freelance web designer working on websites for local businesses, CSS is a very important skill to master. CSS or Cascading Style Sheets provides web developers and designers with the ability to create attractive web pages.
Lesson 1 – Introduction to CSS3
Introduction
The Advantages Of Style Sheets
Discovering Cascading Style Sheets
CSS Structure And Syntax Part1
CSS Structure And Syntax Part2
CSS Structure And Syntax Part3
Using Different Kinds Of Style Sheets
Lesson 2 – Understanding The CSS Box Model
What Is The Box Model
Height And Width
Margin And Padding
Working With Borders
Lesson 3 – Working With Page Layouts
Positioning Elements
Floating Elements
Controlling Display And Visibility
Lesson 4 – Using Colors And Backgrounds
Working With Colors
Working With Backgrounds
Lesson 5 – Web Typography
Understanding Fonts
Working With Text Properties
Text And Shadow Effects Part1
Text And Shadow Effects Part2
Lesson 6 – Links, Lists, And Tables
Working With Lists
Using Navigation Bars
Working With Tables Part1
Working With Tables Part2
Lesson 7 – Dynamic CSS3 Properties
Using Transforms Part1
Using Transforms Part2
Using Transitions
Using Animations
CSS Project Part1
CSS Project Part2
Course Conclusion
Coursework
What's Included
One Full Year of Access
Get an entire year to study the course materials, and use the practice labs to learn everything you need to know for certification.
Module Workbooks
Study comprehensive workbooks with hundreds of pages of notes covering every video topic to help you learn easily.
Instructor-led Training
Enjoy detailed lessons taught by experienced certified IT instructors who guide you every step of the way.
Interactive Learning
Discover interactive study materials in every course including flash cards and matching games to help you master every subject.
Useful Certifications
Learn exactly what you need to prepare yourself for the most powerful, in-demand, IT industry certifications in existence.
Exclusive Community
Join us in our free, private Facebook community to connect with other students who are starting new careers just like you.
Frequently Asked Questions
How do I get access to the course materials?
As soon as you purchase! After we receive payment, you'll be sent a voucher code via email from KO Tech Academy with the subject line "You received a new voucher code". It typically takes a couple hours for processing on our end, so don't panic if you don't receive your voucher code immediately. Once you've received your voucher code, follow the instructions in the email to setup your account and access your Learning Management System (LMS) Dashboard.
Once create my account, what do I do next?
You get to work! Once you've created your account and accessed your dashboard, you're free to start taking your courses and accessing all of your materials. Remember you have full access for an entire year!
Can I start with any course or should I do them in order?
There is no restriction on what order you take your courses in, but we definitely recommend taking the courses in order. They're designed to build on each other as you progress and learn more and more.
For IT & Cybersecurity, we recommend the following order:
CompTIA ITF+
CompTIA A+
CompTIA Network+
CompTIA Security+
Cisco CCNA 200-301
CompTIA Linux+
Microsoft MS 70-698
Microsoft MS 70-410
CompTIA CySA+
Do I take the exams online or do I have to go to a testing center?
You can take all of the exams online through Pearson Vue. We've provided links below to additional information from the certification providers because each one will have different requirements for online exams like needing a webcam for monitoring during the exam, etc. CompTIA Testing InformationCisco Online Testing InformationCisco Online Testing FAQMicrosoft Online Certification Exam Requirements